Welcome to Wyrdshop Online, the web's premier occult store.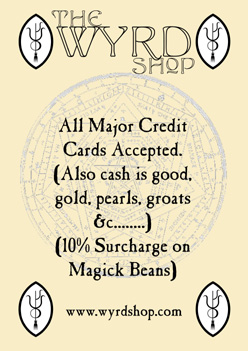 We now accept Paypal as a payment method. Email your order to us at sales@wyrdshop.com and we will send you a Paypal invoice as soon as it is ready for despatch.
We are hosted on an SSL secured server.
Postage & packing is charged at cost and will be e-mailed to you when your order is ready for despatch.
The Wyrdshop operates a strict privacy policy. No customer information or details are passed to any third parties.
Our shop, located on the world famous Royal Mile, is open from 12 Noon until 5.30pm every day except Tuesday and Sunday.